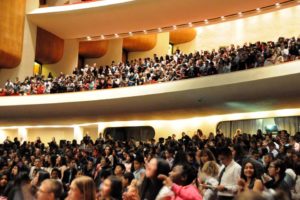 EPSOs longest running education program is the El Paso Electric Young People's Concerts.
Entering their 83rd year, over 12,000 5th grade students attend our free performances in the Abraham Chavez Theatre each year. Students are exposed to live classical music in a fun, energetic, and interactive environment.
The EPSO provides every student that attends our concerts with curriculum developed by Carnegie Hall's "Link Up" program. Students engage in this unique concert by playing recorders, violins, and singing along with the EPSO from their seats in the theatre. The Young People's Concerts are open and free to all 5th grade is the area school districts, private schools and home-schools.
There are no upcoming events at this time